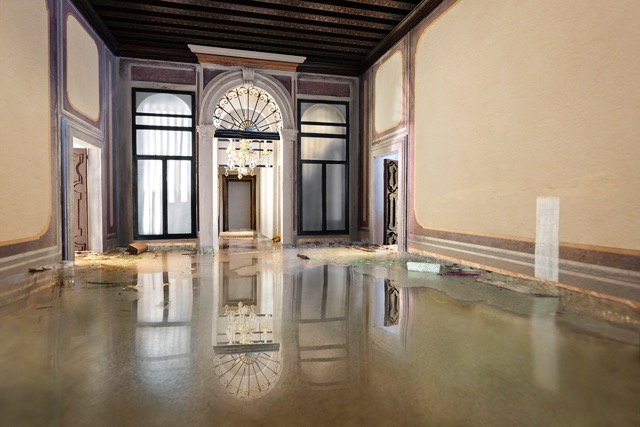 The Flooding of Venice 2
Material: Inkjet Giclee prints on smooth photo rag paper
Size: 100 x 66.6 cm
Artist: Tanja Milbourne
Science predicts a future of global warming, rising sea levels and likely conflicts over resources. There may come a time when many parts of the world will become unliveable, flooded and abandoned.
'The Flooding of Venice' represents this future as a series of photographs.
Working with a scale-model replica of the room at the Palazzo Mora, in Venice, where the work is exhibited, the artist created photographs that depict sequentially the palazzo becoming increasingly derelict.
The work functions on multiple levels; the viewer recognises the space depicted by the photographs as the Palazzo Mora, allowing to identify with the predictions being made for the space they are standing in.
On another level, the viewer will also be able to recognise the 'lie' of the photographs. By presenting the photographs of the modelled space within the real space they challenge the accepted 'reality' of the photograph and in particular the architectural photograph